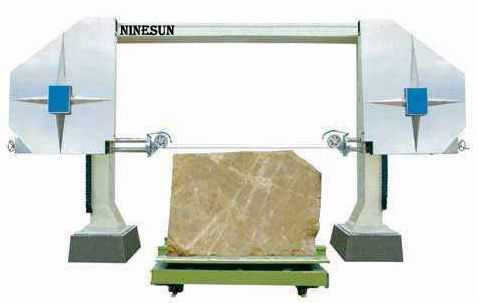 Ninesun Stone Machine company is a specialized manufacturer & exporter of stone cutting machine, such as block squaring wire saw, diamond wire saws, wire saw machine, vertical wire saw, spring fitting wire, wire cutting saw, abrasive wire saw, granite cutting machine, granite cutting saw. This diamond wire saw machine is an automatic, contouring machine, mainly used for cutting complex architectural block squaring marble and granite, processing new-shaped of granite and marble, and cutting different sizes and thickness, such as profile, column slab, roman column and words on granite or marble and every kind of natural tone. The well precision block squaring wire saw can produce smooth, sharp-edged surfaces on virtually any material. The cutting tool employed is a stainless steel wire with diamonds embedded into the surface of the wire. This patented embedding process ensures the maximum cutting capability and long wire life.
NI-XBSJ-3500
| | | |
| --- | --- | --- |
| | | XBSJ-3500 |
| Max.cutting diamensions(L×W×H) | mm | 3500×2000×2000 |
| Wire lenhth | mm | 19400 |
| Cutting linear speed | m/s | 25-45 |
| Main motor power | kW | 22 |
| Overall dimensions(L×W×H) | mm | 6000×8000×4500 |
| Approximate weight | kg | 6800 |
Since this diamond wire saw is incorporate on structure, it will be easy to transit and convenient to install and adjust. With the large workplace, the block squaring wire saw can be put directly on the ground, thus increase the processing stability and save the costs of machine maintenance greatly. Block squaring wire saw features high strength, deformation resistance and long service life. It is easy to transport and free of experiment and adjustment. With frequency control, the block squaring wire saw can run steadily and has less risks of damage.