Manual Drawcut Machine
Ninesun Stone Machine Company is a specialized manufacturer & exporter of manual drawcut machine, such as cutting craft stone, stone cutting equipment, granite cutting equipment, cutting granite counter tops, stone cutting tool, stone cutting saw, stone cutting machine, cutting marble etc.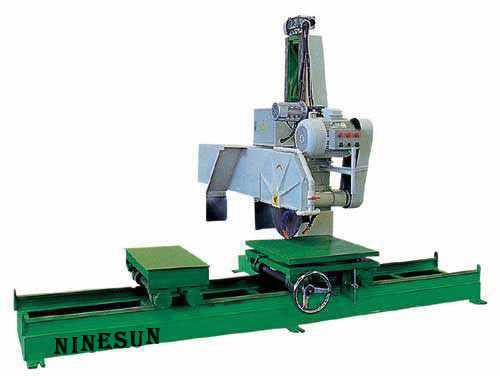 This machine is for cutting craft stone.
Max. vertiacal stroke
mm
800
Max. cutting width
mm
1000
Total power
KW
12
Water consumption

m

3

/h
2
The manual draw cut machine is good quality stone cutting equipment and is agile and convenient to cutting craft stone, which is equipped with a small slide board so as to feed materials slantwise and achieve a big chamfering with 150mm in width. The table has the sealed oil-filled guide and is driven by the rack and pinion moved by the hand-wheel, and the blade spindle can rotates manually; The craft stone's cutting adopts jointed structure, with trolley driven by hand. The manual draw cut machine is an unique equipment for accurate dimension and specification, including the straight and smooth edge with flexible movement of blade. With combination structure and rotatable cutting head, the cutting head of the main drive in manual draw cut machine can rotate 45 degrees, and oil-immersed sealed rails.
The great strength and high efficiency of the manual draw cut machine makes it possible to cut craft stone. The manual edge cutting machine is compact in structure and applicable for edge trimming and chamfering of small slabs, slab bars and thick slabs.